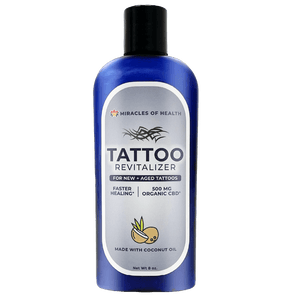 Tattoo Revitalizer | CBD Moisturizing Butter
Regular price
Sale price
$26.51
---
ADVANCED CARE FOR NEW & AGED TATTOOS
Naturally Soothe, Protect & Revitalize Your Ink
Refreshing Moisturizing Butter Infused with Organic CBD & Essential Oils for Enhanced Care.
Miracles of Health's all-natural Tattoo Revitalizer helps moisturize, protect and restore vibrancy to new and aged tattoos. Each bottle of Revitalizer contains 8oz of moisturizing butter and is infused with 500mg of CBD and soothing essential oils.
Miracles of Health Tattoo Revitalizer is a natural infusion specially formulated for advanced tattoo care. The ingredients in our Revitalizer offers nourishment for quick healing, relief and protection for new tattoos. With use over time our tattoo butter helps bring aged tattoos back to life with a more bright and vibrant look.
Our Tattoo Revitalizer is a non-greasy, moisturizing formula infused with 500mg CBD and essential oils. It is great for new or old ink and can used on your face, hands, feet, and body. Packed with anti-aging properties this CBD tattoo butter rejuvenates the skin to better prevent tattoos from aging quickly. Especially good for sensitive skin!
BENEFITS

:
Fast Absorption
Infused with Natural Anti-Aging Properties *
Inflammation Support *
Helps Reduce Pain *
Hydrates & Nourishes Skins *
Promotes Fast Healing *
Loaded with Antioxidants *
Helps Reduce Scarring *
KEY INGREDIENTS:
Pure CBD: offers a soothing anti-inflammatory response making it great for fresh tattoos
Organic Coconut Oil: contains natural anti-angling, moisturizing and antiseptic properties. Great for healing and restoring tattoos
Jojoba Oil: the antibacterial properties help keep tattoos clean from bacteria and naturally hydrates the skin
Arnica Oil: has been used for centuries to reduce inflammation, heal wounds and soothe
Aloe Vera: contains strong moisturizing, antibacterial and anti-inflammatory properties, all excellent for new tattoos
Tropical Butter: formulated with natural ingredients that help heal and rejuvenate the skin
Vitamin E: allows the skin to breathe despite its moisturizing properties to allow the tattoo to heal more quickly and efficiently
Product Info:
Size: 8 ounces
CBD: 500mg Organic CBD per Bottle
Grow & Manufactured in U.S.A
SUGGESTED USE:
Apply to tattoo 1-2 times daily.
Prior to applying to fresh tattoos, consult your tattoo artist. Wash the skin with an antimicrobial / antibacterial soap and let dry, or as instructed by your tattoo artist.
INGREDIENTS:
CBD, Deionized water, Theobroma Cacao (Cocoa) Seed Butter, Butyrospermum Parkii (Shea Butter), Emulsifying wax NF, Stearic Acid, Caprylic/Capric Triglyceride, Vitis Vinifera (Grape Seed) Oil, Glyceryl Stearate, Camellia Sinensis (Japanese Green Tea) Leaf Extract, Tocopherol (Vitamin E), Allantoin, Phenoxyethanol and Caprylyl Glycol (Optiphen), Hemp Extract, Jojoba, Coconut Fractionated Oil, Coconut Fragrance, Aloe Vera Powder, Arnica Oil
CAUTION:
FOR EXTERNAL USE ONLY. Stop if irritation occurs. Do not apply to open or bleeding wounds. Avoid contact with eyes. Store in a cool, dry place. Keep out of reach of children.