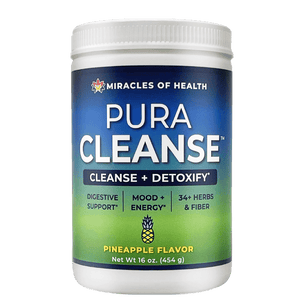 Pura Cleanse | Pineapple
Regular price
Sale price
$28.59
---
#1 Daily Super Herb And Fiber Drink
Pura Cleanse is an all-natural blend of 35+ super herbs & fiber for digestive support, cleansing, and detoxification. Formulated to support bowel regulation, healthy digestion, cleansing and detoxification so you can feel better, lighter, and more energized.
Reduce Constipation, Gas & Bloating

Increase Energy & Nutrient Absorption

Cleanse the colon, skin, lungs & kidneys

Remove Harmful Toxins & Excess Waste
Why Miracles Of Health Herb & Fiber Cleanse?
Pura Cleanse uniquely superior because it is not only a high fiber drink but a high FIBER CLEANSE. Pura Cleanse absorbs into the toxic layers of your colon and assists in breaking down and removing excess waste a layer at a time. When consuming Pura Cleanse, you can maintain a healthy bowel & regularity as wells as purge harmful toxins and waste from your entire body.
Pura Cleanse is synergistically formulated to be gentle enough to be included in ones everyday regiment and effective enough to be used as a 30-90 day annual cleanse. The bowel holds onto waste material longer than we realize and regular internal cleansing is essential to your overall health. Depending on your specific health state and goals, Pura Cleanse will be your friend for life whether used daily, monthly, or annually.
Benefits:
Promotes bowel regularity
Comprehensive support for the liver, lungs, lymphatic system, kidneys, skin and blood.
Fiber helps bind with toxins in the digestive tract and assists with their removal from the body,
17+ herbs that aid in detoxification and promote elimination from the colon.
10+ soothing herbs including Slippery Elm, Marshmallow, Aloe Vera, Catnip, Cinnamon and Ginger.
More than 6 herbs to assist in rebuilding the bowel.
Suggested Use:
Blend, shake or stir briskly one tablespoon of Pura Cleanse with 8 oz. of water or juice one to two times per day as needed.
Storage:
Store this product in a cool dry place.
Supplement Facts:
Other Ingredients: Fructose, Natural Flavors
Certified Gluten Free.
Contains no GMO's, Yeast, Wheat, Rye, Soy, Salt, Dairy, Animal Products, Fillers, Binders or Artificial Ingredients.
WARNING: Consult your physician before using this or any product if you are pregnant, nursing, trying to conceive, taking medication or have a medical condition.
Notice: This herb and fiber drink should be consumed with a full glass of juice or water. Consuming this product without enough liquid may cause choking. Do not consume herb and fiber drink if you have difficulty swallowing. As with many natural products, color and taste may vary from lot to lot.