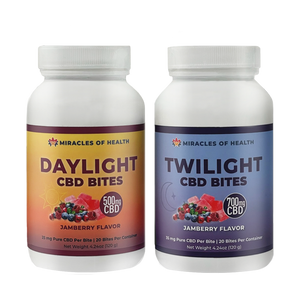 Daylight Twilight Bundle | AM PM CBD Edibles
Regular price
Sale price
$43.68
---
40 SERVINGS TOTAL |  20 DAYLIGHT BITES + 20 TWLIGHT BITES 
Balance your mood and ease into relaxation with our NEW Daylight Twilight CBD Bundle
Our Daylight CBD Bites help you stay feeling relaxed and balanced throughout the day while our Twilight CBD are perfect for calming the mind and body to promote deep, restful sleep.
Included in this bundle:
x1 Bottle of Daylight CBD Bites | 25 mg per Bite | 20 Bites Total
x1 Bottle of Twilight CBD Bites | 35 mg per Bite | 20 Bites Total
Both sets of gummies are vegan-friendly, gluten-free, and dairy-free. They're also delicious and easy to take on the go. Enjoy!
Daylight CBD Bites
FOR THE AM | 25MG CBD PER BITES | 20 SERVINGS TOTAL | JAMBERRY FLAVOR
Start your day off right with Daylight CBD Bites!
Our Daylight CBD Bites are a great and enjoyable way to start the day. These delicious bites are infused with 25 mg of pure CBD.
Whether you're a first-timer or an experienced user, these bites make it easy to control your dosage. With 500mg of CBD per bottle, there's plenty to go around. Enjoy a tasty treat that'll help keep you feeling your best all day long.
A perfect fit for anyone looking to….
Support a balanced mood and a calm mind*
Support healthy inflammation response and reduce pain*
Delicious and easy to take CBD, just grab and go!
Twilight CBD Bites
FOR THE PM | 35MG CBD PER BITES | 20 SERVINGS TOTAL | JAMBERRY FLAVOR
Fall asleep and stay asleep these delicious Twilight CBD Bites
There's nothing worse than lying in bed for hours trying to drift off to sleep, only to toss and turn all night long. But with our Twilight CBD Bites, you can enjoy deep, restful sleep so you can wake up feeling refreshed and rested.
These convenient bites are perfect for busy people who don't have time for a lengthy bedtime routine.
Our Twilight Bites are infused a Pure CBD that's perfectly dosed to support a deep restful sleep cycle. Just pop one or two in your mouth before you hit the pillow, and let the calming power of CBD work its magic.
A perfect solution for anyone looking to try CBD for the first time or an experienced user who wants an easily controlled dosage.
 700mg CBD Total | 20 servings per Bottle
Why choose our Daylight Twilight Bundle?
Easy to use
Taste delicious
Precise dose with 35 mg per bite
Convenient for travel – grab and go!
Dog friendly
100% THC-free
Remarkable health benefits
Important facts to know about our CBD Bites:
100% THC-free
No heavy metals
No pesticides
Gluten-free
Vegan friendly
GMO -free
No trans-fats
No artificial colors
No high-fructose corn syrup
Dairy-free, peanut-free and wheat-free
Guaranteed Analysis
Third-Party Accredited Lab Testing