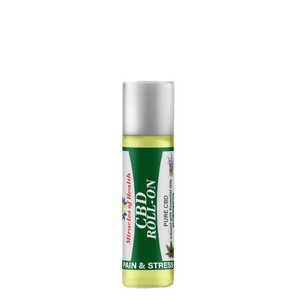 CBD Roll-On | CBD Isolate Infused in Essential Oils
Regular price
Sale price
$10.65
---
Roll On, Relax and Rejuvenate!
Our topical, proprietary blend of CBD-infused essential oils comes in an  easy-to-use applicator bottle!
Our exclusive formula includes:
Jojoba oil, hemp oil, lavender, wintergreen,  pine, arnica, and the terpene B-Caryophyllene, along with 225mg of Pure CBD (9mL). Be assured, our Roll-on is 100% THC-free.
Miracles of Health CBD Roll-on is simple and easy to use. If you experience headaches, pain, inflammation, sunburn, bug bites, dry lips, wrinkles, or dry skin spots, our topical formula is fast and convenient to apply. The CBD isolate-infused essential oils offer soothing relief, reducing stress and improving your well-being.
Possible Benefits of our CBD Roll-On May Include: 
Localized relief for pain, soreness, and inflammation. The pain-killing properties of cannabinoids, absorbed through the skin into CB2 receptors, can offer relief from inflammation and the pain that comes with it. Cannanidiol (CBD), a main compound of hemp extract, has been shown to limit the release of pro-inflammatory signals throughout the body.

Improved muscle relaxation and a reduction in cramping. Studies have shown that the cannabinoids in hemp may relax muscles by inhibiting the neuron transmission of pain. 

Safer pain management. Cannabinoids are being studied for their ability to desensitize the body's pain receptors. The natural plant based extract can be used as a safe alternative to addictive painkillers and muscle relaxers.

Natural plant-based skin care. The anti-oxidant and anti-aging properties of hemp, along with the moisturizing and protective qualities of the omega fatty acids present, are a wonderful skin-healing treatment.

Relief of PMS cramping and pain. The Hemp Extract combined with nourishing coconut oil, absorbed into the skin and CB1 and CB2 receptors, can help reduce cramping, breast tenderness, sore joints, and back pain.

Joint pain relief. The uses of cannabinoids have been shown to reduce inflammation and strengthen the immune system. Miracle Choice Hemp Extract is an all-organic, safe and natural way to manage pain.

Skin conditions. Miracle Choice Hemp Extract is a nourishing and anti-inflammatory way to treat sunburns, bug bites, chapped lips, dry skin, rashes and burns. It also shows promise for treating acne, eczema, psoriasis, and dermatitis.
For adults 18 and older. For external use only.